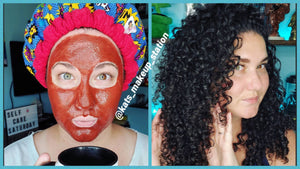 THERMAL VIBES
Thermal Vibes deep conditioning, washable heat caps are great for all hair textures! Applying heat to your deep conditioning hair routine is a must for moisturizing dry, thirsty hair. Heat helps to open up the hair follicle, lifting the cuticle on the hair shaft and allowing your deep conditioner and hair treatments to penetrate each strand to allow better absorption of moisture, This leaves your hair moisturized and hydrated for a longer lasting wash and go, and overall healthy hair.

Our Thermal Vibes Washable Heat Caps are one of a kind and are not available in stores. Thermal Vibes is the first ever patent pending washable deep conditioning heat cap. It includes a removable natural flaxseed pouch that allows you to wash your deep conditioning cap. Deep conditioning is fun again with our Thermal Vibes Washable deep conditioning Heat Caps. There is a style for everyone!
WHY THERMAL VIBES?
FOR ALL HAIR TEXTURES
Thermal vibes works on all hair textures!! Applying heat enables the hair cuticle to open up and allows the deep conditioner to penetrate the hair shaft and provide nourishment from the inside out. The results are healthier, hydrated, moisturized curls.


CORDLESS
With your Thermal Vibes heat cap you will be able to multitask and have the freedom to move around while you deep condition. No more feeling chained to a hooded hair dryer! Our caps are fashionable enough for you to deep condition and get those errands done!


WASHABLE
Thermal Vibes is the first patented deep conditioning heat cap. It is made with a removable flaxseed pouch, allowing you wash your cap! Now you have the freedom of complete self-care! Do your face mask as you deep condition without worrying about getting your cap dirty! Spot cleaning is not enough! Ditch that dirty heat cap and switch to Thermal Vibes!